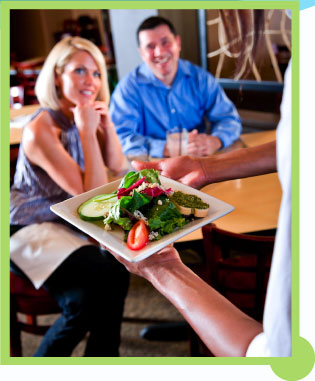 is a resource to find truly independent Minnesota restaurants; restaurants with high quality food and unique eating experiences; restaurants with great wines, local foods, microbrews, original dishes and vegetarians options; neighborhood restaurants that have a sense of community and provide their employees the ability to earn a decent living.
Come! Explore Eat Local Minnesota and discover your new favorite restaurant!

Gourmet Cafeteria / Pizza & Wine Bar / Bakery
Award winning salads and sandwiches are made fresh right in front of you. Take a tray, you're in for a wonderful experience - unique soups, legendary desserts - don't forget the Chocolate Turtle Cake! Come back for the fun Pizza & Wine Bar.
Crooners Lounge and Supper Club celebrates and pays homage to the second Golden Age of the 20th century and the fabulous dining experiences it provided. In America's best restaurants "Continental Cuisine" graced the tables. Dishes brought back from the GI's experience in Europe had evolved into something uniquely American. People dressed for dinner and added to the level of sophistication that made dining out a special occasion. And everywhere there was live music from Crooners tinkling the 88's and giving us their versions of Sinatra, Martin, Como and Darin. Crooners Lounge and Supper Club bring it to you with their own contemporary spin that is at once mid-20th century and yet current and relevant for today. Join them on a trip back to that iconic time on 21st century wings.
American
Hazel's Northeast has what every neighborhood needs – real, good food. Comfort food isn't a trend at Hazel's it's five decades of family tradition! Scratch pancakes, biscuits and gravy, juicy cheeseburgers, and hearty entrees are served daily. And don't forget the bread pudding!
From the team behind Nightingale comes Lake City Sandwiches, a new delivery/pick up only sandwich service in Minneapolis.  We bake our focaccia daily, we source our meats sustainably and we believe in equal rights.  50 cents of every sandwich sold will go to a different socially concerned charity monthly.  Get your sandwich delivered daily from 11am until Midnight. Vegan and vegetarian options available as well as soup and sides.  Please visit our website at
lakecitysandwiches.com
Breakfast/Lunch/Dinner/Cocktails
The dedicated staff at Nightingale restaurant take pride in presenting a thoughtful and delicious approach to food and drink, whether you're visiting for dinner, happy hour, or brunch. Their focus on made-from-scratch meals, using sustainable and local ingredients, is likely to make Nightingale your go-to spot for inspired food and drinks.
Chinese Restaurant
The Great Wall restaurant has provided a delicious taste of authentic Chinese cuisine since 1981. Specializing in Szechuan and Peking dishes, the Great Wall restaurant offers one of the most extensive Chinese menus in the Twin Cities.
Authentic Cuban Cuisine / Patio
Visit Victor's 1959 Café for some "Revolutionary" Cuban cooking! Sip on a delicious champagne Mojito while you bite in to Ropa Vieja or the Picadella. Enjoyed by Guy Fieri on "Diners, Drive-ins, and Dives," Victor's will make you feel like you've walked right into Havana, Cuba.